BestsellerMagazine.com - Top news: TITLE
By Saralyn Cruickshank
Published
March 19, 2018
The government website tracking the status of Puerto Rico's recovery efforts after the devastation caused by Hurricane Maria in September tells an encouraging story. Statistics measuring access to water and sewage, electricity, cellphone service, and grocery stores reach above 90 percent, and shipping ports, post offices, and public transportation all boast fully restored operations.
But the numbers don't reflect what life is like for many Puerto Ricans. The hurricane has been linked to health crises relating to the outbreak of infectious diseases, a spike in suicide attempts, and a damaged environment that is sure to affect human health in the long term. Stress, despair, and illness are all part of a "new normal" for Puerto Rico's citizens, says Yonaira Rivera, a PhD candidate at the Johns Hopkins Bloomberg School of Public Health.
Still, she finds reason to hope.
"The beauty of public health is that it gives you the tools to help in a variety of ways," says Rivera, a founding member of the relief group Puerto Rico Stands.
To raise awareness and leverage the skills of her colleagues at the Bloomberg School, Rivera worked alongside a small team to organize "Six Months after Maria: Public Health Issues in Puerto Rico," an installment of the JHU Forums on Race In America series. The panel event, which Rivera will moderate, will explore the historical and economical context of the public health needs of the island, as well as some of the ongoing grassroots efforts for recovery.
The panelists include:
Juan Giusti-Cordero, a professor of history at the University of Puerto Rico
Marietta Vazquez, an associate professor of infectious disease at Yale and a grassroots organizer
Antonio Trujillo, an associate professor of international health at the Bloomberg School
"It's important to continue to bring light to the issues that are happening on the island," Rivera said. "We thought it would be good to do a follow-up six months later to remind people that the people of Puerto Rico are still facing days and nights without power, without running water, and without some of their basic needs met."
Among many other challenges, the storm put Puerto Ricans at heightened risk for certain infectious diseases. In October, contaminated water caused an outbreak of leptospirosis, a bacterial disease that causes flu-like symptoms. In December, an independent >New York Times investigation found that an additional 1,052 deaths occurred following the hurricane compared to the average number of deaths in the same time period in 2015 and 2016. The majority of these deaths, the Times found, were due to untreated diabetes, sepsis, and complications from Alzheimer's.
This month, the government launched its largest health campaign since the hurricane to immunize people against the flu, citing a drop in expected vaccinations likely caused by damage to the island's vaccine inventory during the storm.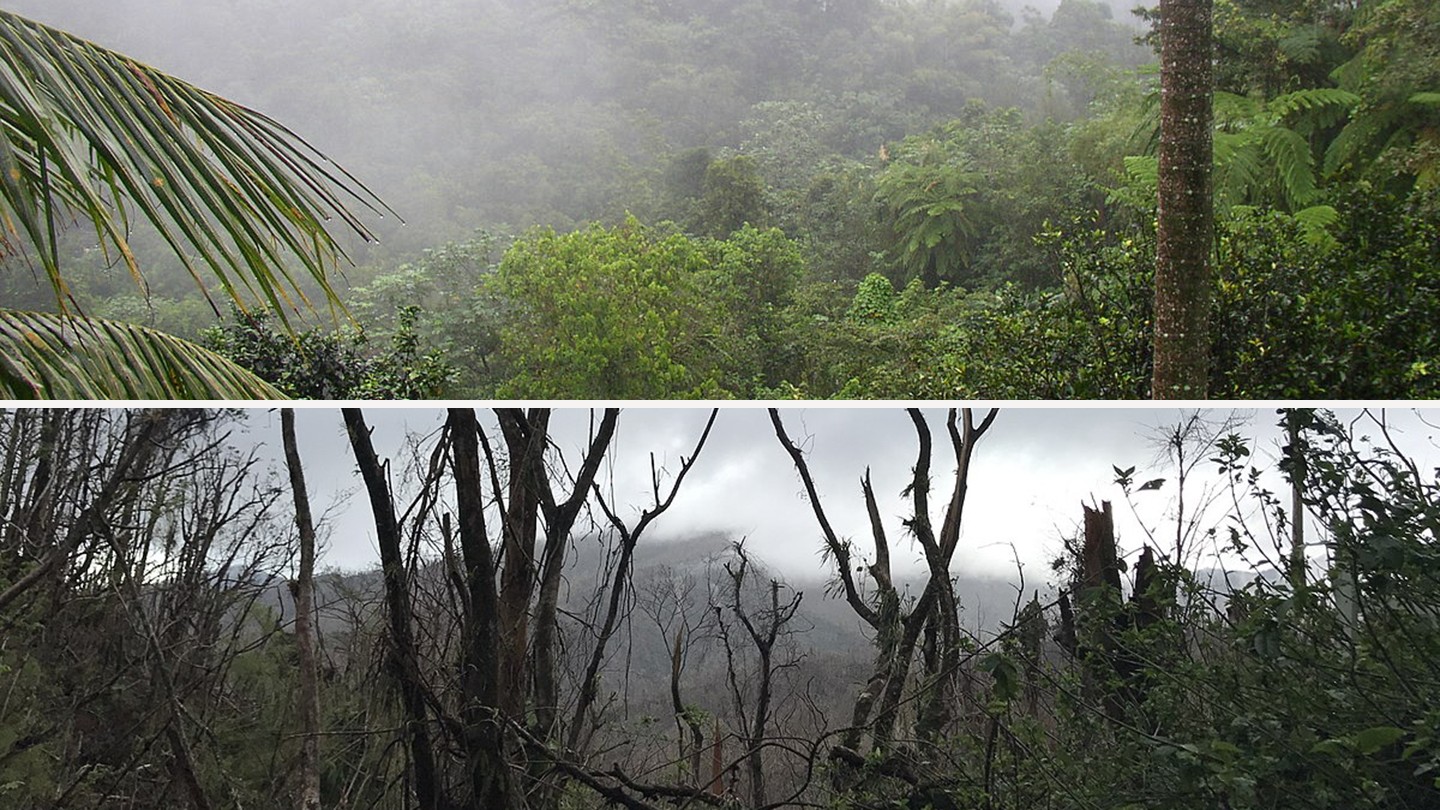 Image caption: Once a thriving rainforest (above), El Yunque National Forest was severely damaged by the storm, and scientists predict that the region's carbon cycle will be permanently affected
Image credit: Stanthejeep / Mark Davis, USFWS / Wikimedia Commons
There are also serious environmental implications of the storm that are predicted to affect human health. Extensive damage to the island's El Yunque National Forest, for example, will almost certainly affect carbon levels in the atmosphere—possibly contributing to greater climate change and compounding the problem of stronger Caribbean storms.
Perhaps most urgent is the need to address the mental health crisis on the island. >Newsweek reports that health professionals attribute a reported spike in attempted suicides to the storm. According to Puerto Rico's health department, from November 2017 to January 2018, callers to a suicide hotline on the island who said they had already attempted suicide more than tripled compared to the same time period the previous year. The number of deaths from suicide in 2017 increased 16 percent compared to 2016.
"People are suffering from PTSD," says Rivera. "I'm worried about what will happen when the next hurricane season comes."
She adds, "These are U.S. citizens, and they're going through loss and mourning. It's our job as public health professionals—and as citizens—to try to assist them in whatever way we can."
The JHU Forums on Race In America event, "Six Months After Maria: Public Health Issues in Puerto Rico," will take place at 7 p.m. on Tuesday, March 27, in Sheldon Hall at the Bloomberg School of Public Health.
Readers can support Rivera's work with Puerto Rico Stands and the Latino Public Health Network as they rebuild homes in Sector Maná.
Posted in University News, Politics+Society
Tagged puerto rico, hurricanes, public health, jhu forums on race in america
BestsellerMagazine.com, index News of business criminal law politics soccer sports celebrity lifestyle video images in the world and the world today.
Source : https://hub.jhu.edu/2018/03/19/jhu-race-forums-puerto-rico/