BestsellerMagazine.com - CATEGORY Worldwide news: TITLE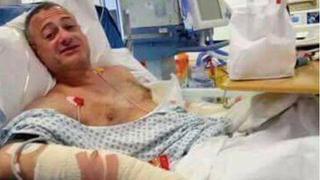 Photo via Facebook
A soccer fan from London said he tried to stop the attackers on London Bridge on Saturday after drinking, he said, "four or five pints, nothing major." According to the >Guardian, the Millwall fan, Roy Larner, was stabbed in the attack and was taken to the hospital with serious injuries, but is now out of intensive care.
Larner said, per the Guardian:
"They had these long knives and started shouting about Allah. Then it was, 'Islam, Islam, Islam.'

"Like an idiot I shouted back at them. I thought, 'I need to take the piss out of these bastards.' I took a few steps towards them and said, 'Fuck you, I'm Millwall.' So they started attacking me."
Fans of Millwall, which were promoted two weeks ago to the Championship, England's second-highest tier, have a reputation as violent soccer hooligans.
Advertisement
Larner self-reported the amount of alcohol he had, and it's worth noting that British imperial pints are 1.2 U.S. pints, or about 20 oz. He might have had even more liquid courage in him had his drinking partner not been a senior citizen.
"I didn't think of my safety at the time. I'd had four or five pints – nothing major. I can handle myself. But I was out with an old person and it was out of order."
Here's Larner all patched up:
BestsellerMagazine.com, index News of business criminal law politics soccer sports celebrity lifestyle video images in the world and the world today.
Source : https://deadspin.com/fuck-you-im-millwall-londoner-says-he-took-on-bridg-1795871139