BestsellerMagazine.com - CATEGORY Prime News: TITLE
A licia Chenaux lives on an island called Bluebonnet, a quaint forested enclave, with her husband, Aldwyn (Al), to whom she has been married for six years, and their two daughters: Abby, who is 8, and Brianna, who is 3, although she used to be 5, and before that she was 8. As a family, they live their days as a parade of idyllic memories, often captured as digital snapshots on Alicia's blog: scouting for jack-o'-lantern candidates at the pumpkin patch, heading to Greece for days of swimming in a pixelated sea. It's like a digital Norman Rockwell painting, an ideal of upper-middle-class American domesticity—an utterly unremarkable fantasy, except that Abby and Brianna are both child avatars played by adults.
When Alicia discovered in her early 30s that she couldn't have biological children, she fell into a lengthy depression. But Second Life offered her a chance to be a parent. Her virtual daughter Abby endured a serious trauma in real life at the age of 8 (the specifics of which Alicia doesn't feel the need to know), so she plays that age to give herself the chance to live it better. Brianna was raised by nannies in real life—her parents weren't particularly involved in her upbringing—and she wanted to be part of a family in which she'd get more hands-on parenting. Perhaps that's why she kept wanting to get younger.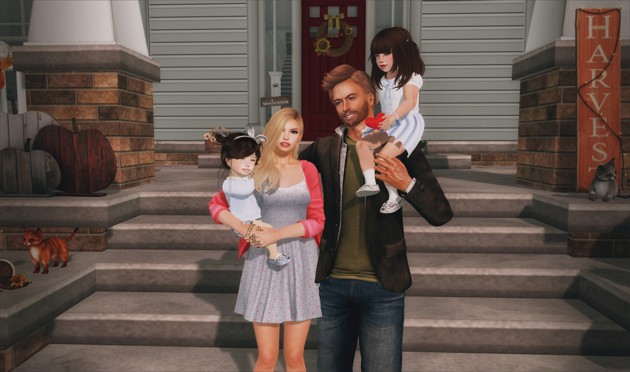 Alicia and her family are part of a larger family-role-play community on Second Life, facilitated by adoption agencies where children and potential parents post profiles and embark on "trials," during which they live together to see whether they are a good match. Sara Skinner, the would-be founder of the Second Life black-history museum, told me about parenting a 4-year-old son played by a man in the armed services deployed overseas: He often logged on with a patchy connection, just to hang out with Sara for a few hours while his service flickered in and out.
Sometimes adoptive parents will go through a virtual pregnancy, using "birth clinics" or accessories called "tummy talkers"—kits that deliver everything you need: a due date and body modifications (both adjustable), including the choice to make the growing fetus visible or not; play-by-play announcements ("Your baby is doing flips!"); and the simulation of a "realistic delivery," along with a newborn-baby accessory. For Second Life parents who go through pregnancy after adopting in-world, it's understood that the baby they are having is the child they have already adopted—the process is meant to give both parent and child the bond of a live birth. "Really get morning sickness," one product promises. "Get aches." Which means being informed that a body-that-is-not-your-corporeal-body is getting sick. "You have full control over your pregnancy, have it EXACTLY how you want," this product advertises, which—as I write this essay, six months into my own pregnancy—does seem to miss something central to the experience: that it doesn't happen exactly how you want; that it subjects you to a process beyond your control.
In real life, Alicia lives with her boyfriend, and when I ask whether he knows about her Second Life family, she says, "Of course." Keeping it a secret would be hard, because she hangs out with the three of them on Second Life nearly every night of the week except Wednesday. (Wednesday is what she calls "real-life night," and she spends it watching reality television with her best friend.) When I ask Alicia whether she gets different things from her two romantic relationships, she says, "Absolutely." Her boyfriend is brilliant but he works all the time; Al listens to her ramble endlessly about her day. She and Al knew each other for two years before they got married (she says his "patience and persistence" were a major part of his appeal), and she confesses that she was a "total control freak" about their huge Second Life wedding. In real life, the man who plays Al is a bit older than Alicia—51 to her 39, with a wife and family—and she appreciates that he has a "whole lifetime of experiences" and can offer a "more conservative, more settled" perspective.
After their Second Life wedding, everyone started asking whether Alicia and Al planned to have kids. (Some things remain constant across virtual and actual worlds.) They adopted Abby four years ago, and Brianna a year later, and these days their family dynamic weaves in and out of role-play. When Brianna joined their family, she said she wanted more than "just a story," and sometimes the girls will interrupt role-play to say something about their real adult lives: guy trouble or job stress. But it's important to Alicia that both of her daughters are "committed children," which means that they don't have alternate adult avatars. While Alicia and Al share real-life photos with each other, Alicia told me, "the girls generally don't share photos of themselves, preferring to keep themselves more childlike in our minds."
There's something stubbornly beautiful about Alicia's Second Life family, all four people wanting to live inside the same dream.>

For Christmas in 2015, Al gave Alicia a "pose stand," which allows her to customize and save poses for her family: she and Al embracing on a bench, or him giving her a piggyback ride. Many of Alicia's blog posts show a photograph of her family looking happy, often accompanied by a note at the bottom. One such note reads: "Btw, if you want to buy the pose I used for this picture of us, I put it up on Marketplace." In one post, beneath a photograph of her and Al sitting on a bench, surrounded by snowy trees, cuddling in their cozy winter finery, she admits that she took the photo after Al had gone to bed. She had logged his avatar back on and posed him to get the photo just as she wanted.

To me, posing illuminates both the appeal and the limits of family role-play on Second Life: It can be endlessly sculpted into something idyllic, but it can never be sculpted into something that you have not purposely sculpted. Though Alicia's family dynamic looks seamless—a parade of photogenic moments—a deep part of its pleasure, as Alicia described it to me, seems to involve its moments of difficulty: when she has to stop the girls from bickering about costumes or throwing tantrums about coming home from vacation. In a blog post, Alicia confesses that her favorite time each evening is the "few minutes" she gets alone with Al, but even invoking this economy of scarcity—appealing for its suggestion of obligation and sacrifice—feels like another pose lifted from real-world parenting.

Last year, Alicia and Al adopted two more children, but found it problematic that the new kids wanted "so much, so fast." They wanted to call Alicia and Al Mom and Dad right away, and started saying "I love you so much" from the very beginning. They had a desire for intense, unrelenting parenting, rather than wanting to weave in and out of role-play, and constantly did things that demanded attention, like losing their shoes, jumping off the roof, climbing trees they couldn't get down from, and starting projects they couldn't finish. Basically, they behaved more like actual kids than like adults pretending to be kids. The adoption lasted only five months. 
There's something stubbornly beautiful about Alicia's Second Life family, all four of these people wanting to live inside the same dream. And there's something irrefutably meaningful about the ways Alicia and her children have forged their own version of the intimacies they've been denied by circumstances. But their moments of staged friction (the squabbling, the meltdowns) also illuminate the claustrophobia of their family's perfection. Perhaps Second Life families court the ideals of domesticity too easily, effectively short-circuiting much of the difficulty that constitutes family life. Your virtual family will never fully reach beyond your wildest imagining, because it's built only of what you could imagine.

O ne evening during the earliest days of my Second Life exploration, I stood with my husband outside a barbecue joint in (offline) Lower Manhattan and asked him: "I mean, why isn't Second Life just as real as 'real life'?" He reached over and pinched my arm, then said, "That's why it's not as real."

His point wasn't just about physicality—the ways our experiences are bound to our bodies—but about surprise and disruption. So much of lived experience is composed of what lies beyond our agency and prediction, beyond our grasp, beyond our imagining. In the perfected landscapes of Second Life, I kept remembering what a friend had once told me about his experience of incarceration: Having his freedom taken from him meant not only losing access to the full range of the world's possible pleasure, but also losing access to the full range of his own possible mistakes. Maybe the price of a perfected world, or a world where you can ostensibly control everything, is that much of what strikes us as "experience" comes from what we cannot forge ourselves, and what we cannot ultimately abandon. Alice and Bridgette already know this, of course. They live it every day.
---
>
Related Stories
>
---
In Second Life, as elsewhere online, afk stands for "away from keyboard," and during the course of his ethnographic research, Tom Boellstorff sometimes heard residents saying that "they wished they could 'go afk' in the actual world to escape uncomfortable situations, but knew this was not possible; 'no one ever says "afk" in real life.' " This sentiment inspired what Boellstorff calls the "afk test": "If you can go 'afk' from something, that something is a virtual world." Perhaps the inverse of the afk test is a decent definition of what constitutes reality: something you can't go afk from—not forever, at least. Philip Rosedale predicted that the physical world would become a kind of museum, but how could it? It's too integral to our humanity to ever become obsolete, too necessary to our imperfect, aching bodies moving through it.
Did I find wonder in Second Life? Absolutely. When I sat in a wicker chair on a rooftop balcony, chatting with the legally blind woman who had built herself this house overlooking the crashing waves of Cape Serenity, I found it moving that she could see the world of Second Life better than our own. When I rode horses through the virtual Yosemite, I thought of how the woman leading me through the pines had spent years on disability, isolated from the world, before she found a place where she no longer felt sidelined. That's what ultimately feels liberating about Second Life—not its repudiation of the physical world, but its entwinement with that world, their fierce exchange. Second Life recognizes the ways that we often feel more plural and less coherent than the world allows us to be.
Some people call Second Life escapist, and often its residents argue against that. But for me, the question isn't whether or not Second Life involves escape. The more important point is that the impulse to escape our lives is universal, and hardly worth vilifying. Inhabiting any life always involves reckoning with the urge to abandon it—through daydreaming; through storytelling; through the ecstasies of art and music, or hard drugs, or adultery, or a smartphone screen. These forms of "leaving" aren't the opposite of authentic presence. They are simply one of its symptoms—the way love contains conflict, intimacy contains distance, and faith contains doubt.
BestsellerMagazine.com, Site News current daily serving News today and the latest news about politics until News lifestyle and sport.
Source : https://www.theatlantic.com/magazine/archive/2017/12/second-life-leslie-jamison/544149/