BestsellerMagazine.com - Top news: TITLE
ANN's Quote of the Day usually derives from current news, though we reserve the right to pick quotes out of history that have a bearing on the day's events and issues.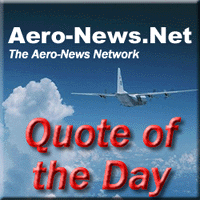 >
Sometimes, you'll find them timely and in keeping with the content of the day's news... and sometimes, they'll just be thought-provoking.
Reader suggestions and comments are welcome... and if particularly intriguing, timely, or poignant, may themselves become future Quotes of the Day.
Let us hear from you, folks!
Aero-News Quote of the Day
"More general-aviation pilots and passengers die from accidents involving loss of control in flight than any other single factor. Our goal is for these experts to discuss solutions available to prevent loss of control and to identify the path forward in our continued joint effort to improve safety."
Source: NTSB Chairman Robert L. Sumwalt will moderate the participant-driven discussion on preventing in-flight loss of control in general aviation. The purpose of the event is to facilitate a discussion about possible solutions to prevent loss of control, which has played a role in more than 40 percent of all single-engine, fixed-wing general aviation fatal accidents.
FMI: >Agenda, >www.ntsb.gov
BestsellerMagazine.com, index Latest News of business criminal law politics soccer sports celebrity lifestyle video images in the world and the world today.
Source : http://www.aero-news.net/index.cfm?do=main.textpost&id=1b3757b7-69e2-44c4-aee1-4baf47d6a838