BestsellerMagazine.com - CATEGORY Worldwide news: TITLE
The Muslim next-door neighbours of Osborne alleged he had racially abused their son at the weekend.
Khadijh Sherazi said she had never had any problems with him or his family until this weekend. But her 12-year-old son, Nadeem, said:
I was on my bike and he just came up to me and said 'in-bred'. Just out there [on the road]. It was just a normal voice. He just said it.
His sister, Nadia, 10, said she also heard what Osborne said.
Me and my nan were sat on the deck. She was putting the washing out. All of a sudden we heard him say 'in-bred'. I said to my nan: 'Did you hear that?' She said it was probably to his dogs.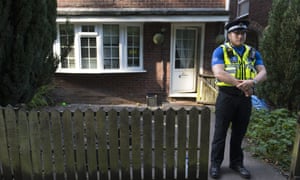 The children's mother said it had not been said in an angry tone. She continued:
We didn't think nothing of it. He seemed a normal bloke, a normal family, normal kids, happy go lucky. I would see him out walking with his two spaniels. He would also shout quite a lot but the kids seemed happy. I wouldn't have said he was someone with mental problems.
Asked about the attack in Finsbury Park, she said: "It's shocking, me being Muslim. If I go out some places are racist. I get called batman. You think, get a life. This guy didn't show any signs of being racist."
Sherazi describes herself as a white Muslim, who was born in Cardiff and speaks with a Welsh accent. Her children were born in Cardiff. Their father is originally from Pakistan.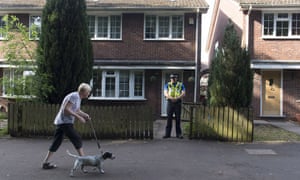 The family said Osborne had a large family who would often visit. He set up a gazebo in the garden as the spell of hot weather came in and was seen arriving with bottles of vodka as if he was going to hold a party. They said they heard him singing in his garden.
"He seemed happy enough," said Sherazi.
The street where Osborne lives is a cul-de-sac of red brick semis and terraces. Osborne is believed to live with partner Sarah Andrews, 42, a chef at the Black Griffin pub in the nearby leafy suburb of Lisvane.
Neighbours said Osborne and Andrews had separated in recent months, and said he would often shout at her in the street.
Pharmacist Rebecca Carpenter, 26, said Osborne was "quite a shouty person, always shouting at his wife and kids".
He always seemed an aggressive and strange person. He drove around in an old car that was always damaged.

He never caused us any real problems, but we could often hear him shouting from the other side of the street.

None of us have ever really spoken to him but we recognised him straight away when we saw him on the telly this morning.
Another neighbour said: "I actually heard him singing in the street yesterday – weird really. I never knew what he did for a living but Sarah is a hard worker."
Stephanie Kibble, 21, another neighbour who lives two doors down, said she never had a problem with Osborne.
I only knew him to say hello to but he was always friendly enough.

BestsellerMagazine.com, set News , Photos, Profile, Video, Artist & Celebrity World complete.

Source : https://www.theguardian.com/uk-news/live/2017/jun/19/north-london-van-incident-finsbury-park-casualties-collides-pedestrians-live-updates