BestSellerMagazine.com – Star News News update: Flubs Happen: Time to Remember Doing Live TV Is Hard and Most Slips of the Tongue Are Just Honest Mistakes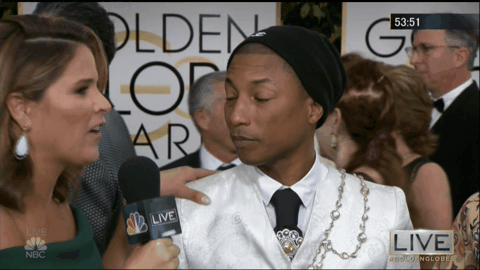 You know how you usually think of the perfect thing to say…about 10 minutes after the opportunity to say it has passed?
Well, think about being under pressure to say the right thing 100 percent of the time, immediately. That's what live TV requires—and subsequently that's what we expect from people doing live TV. Perfections. So when someone wielding the mic trips up, especially on as heavily a spotlit stage as the 2017 Golden Globe Awards, people who aren't doing anything but listening are going to notice.
And if the flub hits certain pressure points, a collective reaction could ensue.
Of course the argument could be, "well, no, I couldn't do it better myself, but that's why they have professionals out there! Aren't they supposed to get it right?!"
Yet they do get it right, 95 percent of the time at least, when you think about all the news or otherwise live programming out there that we don't hear anything about because no one screwed up.
But the 1 percent does tend to take up half of our Facebook and Twitter feeds when, be it during a newscast, a sporting event or, like last night, a major award show, something goes wrong.
Let's rewind for a moment. Sunday afternoon during NBC's 2017 Golden Globe Arrivals Special, Jenna Bush Hagerwas interviewing Pharrell Williams, who was nominated for Best Original Score for his work on the music from Hidden Figures, on the red carpet.
During their brief chat, Bush Hager referred to the movie as "Hidden Fences"—a mashup of the right movie, about the female African-American math whizzes who played integral roles in John Glenn's successful orbiting of the Earth, and Fences, another of the night's most nominated films, starring Denzel Washington and Viola Davis as a long-married couple dealing with deep-rooted issues.
"So, you're nominated for 'Hidden Fences,'" Bush Hager said, actually rather admiringly, after which Pharrell visibly took it in but let it go.
Any other slip of the tongue (such as Ryan Seacrest calling Arrival "The Arrival," which yes, someone actually tweeted about) might not have resonated, but this one touched a nerve and was instantly politicized on Twitter as a flippant lack of knowledge about two films with black lead actors.
Understandably, Bush Hager got emotional talking about the harsh reaction to her mistake this morning on Today, where she insisted it was just one of those flubs and had nothing to do with any other thought process, or lack thereof, in her mind.
"You can say whatever you want to say about me, but to act as though I don't care about," she paused ever so slightly, "people really hurt." (Let us acknowledge: Jenna's father is former President George W. Bush, who was famously accused by Kanye West of not caring about black people in the aftermath of Hurricane Katrina.)
Michael Keaton made the same mistake—on stage, during the show, where presumably "Hidden Figures" appeared in writing nearby (the teleprompters were having problems…)—while reading the nominees for Best Supporting Actress, flubbing the movie title with regard to star Octavia Spencer (who lost to Fences star Davis and it's unclear whether she could hear it in real time over the applause).
Keaton's gaffe didn't go unnoticed, the actor telling TMZ after the show last night. "Let's make this official: I'm sorry, I apologize. I screwed it up." He refused to make any more of it than it was, but Bush Hager was tearfully apologizing this morning in the wake of the Twitter firestorm.
"What I didn't want to do is make anybody feel lesser than who they are," she said. "So, anyway, I hope…I apologized to both the cast, to Pharrell, but it was a mistake and I hope we can all move on."
In case anyone has been feeling unsure about just how much to care about her mistake, because you don't want to dismiss it just in case it meant something bigger than you want to believe it did…
It's officially OK to stand down.
"@JennaBushHager We all make mistakes, hon! Thanks for your apology! #HiddenFigures @TODAYshow," Spencer tweeted Monday morning. Co-star Janelle Monáe also responded to an article about the apology, tweeting, "Thank you Jenna." 
"Don't worry @JennaBushHager!Everyone makes mistakes. Hidden Fences does sound like an intriguing movie though. Just saying… " Pharrell tweeted as well.
To which Bush Hager replied appreciatively, "Dearest, @octaviaspencer Your kindness means so much to me + your compassion is matched only by your incredible talent in Hidden FIGURES! X"
And to Monae, she wrote, "@JanelleMonae, loved talking w/ you about Hidden Figures on @TODAYshow. I continue to rave about how brilliant+kind you are. Sending love. 
Monae tweeted back, "Thank u @JennaBushHager! Your ownership, public acknowledgement, & genuine apology makes me you more! Sending love right back your way. Xo."
Obviously the initial reaction to Bush Hager's mistake, intensified by Keaton's inexplicable error later, shined a light on the very real existence of a much bigger issue than a simple botched exchange on the red carpet.
So the public kindnesses exchanged between the NBC News correspondent and the stars of Hidden Figures were important to help ease tensions. 
But at the end of the day, it ultimately was a broadcaster messing up one word in one interview out of dozens, and in general it's a shame how eager people are to judge errors that occur in the blink of an eye without any malicious intent whatsoever.
Of course it's anyone's right to be personally annoyed for whatever reason they had (as it's impossible to put one's self in the shoes of whomever was offended), but it wasn't as if the slip of the tongue came out of entirely nowhere, Adele Dazeem-style.
As Al Roker pointed out, as they discussed it on Today—live on-air mistakes are nothing new. It's the Internet that's become a more unforgiving listener, very quick to judge and unrelenting in its assault on what it is it thinks you mean.
"We've all been there," Natalie Morales added. 
"We've all been on in live situations, any broadcaster has been on in live situations," Roker said, "and you make a mistake. Look, I forgot Braveheart when I was interviewing Mel Gibsonlast night."
"And you called Jessica Biel 'Jessica Alba,'" Morales offered.
"Exactly," Roker agreed. "But you don't want to go by me 'cause I'm old. But the fact is, honest mistakes happen in live television, and this culture of Twitter and people waiting to pounce, to get on people, it's got to stop. It's got to stop somewhere because it's just ridiculous."
At this point, we've seen it all thanks to live TV, including most of Janet Jackson's boob. We've watched famous singers forget the lyrics to the national anthem, veteran broadcasters accidentally cuss on air and the host of Miss Universe crown the wrong woman. Just a week ago, we saw what happens when Mariah Carey meets an audio fail and gives zero figs.
Professional athletes screw up all the time, and all they do is perform live. 
Point being, we've seen and heard more egregious flubs, and so long as people are talking and doing things in front of rolling cameras and we're watching the results in real time—we will see mistakes.
(E! News and NBC are both members of the NBCUniversal family.)
Sumber: http://www.eonline.com
BestSellerMagazine.com, latest News Around the world presents the latest information of national, regional, and international, politics, economics, sports, automotive, and lifestyle.