BestSellerMagazine.com – Star News Breaking news: Movie Preview 2017: 84 Films You Should Know About in the New Year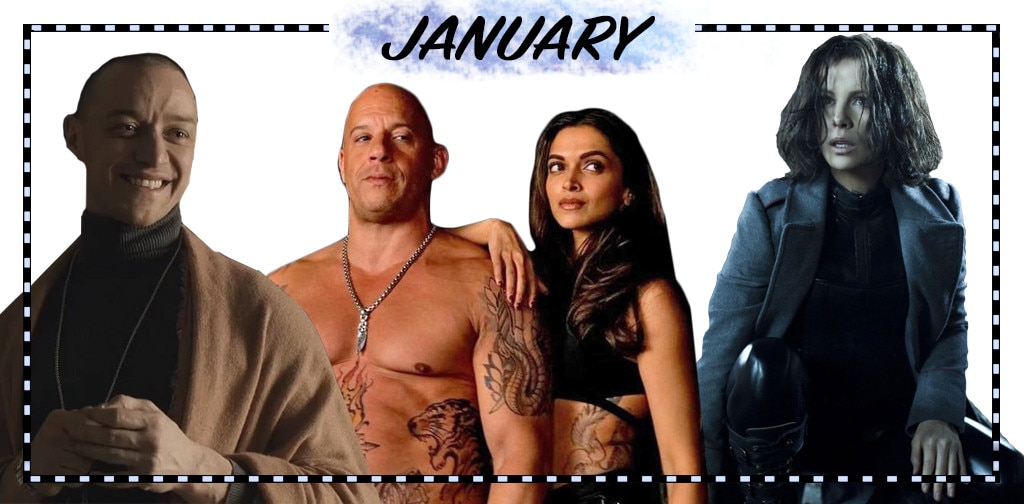 New Year, new movies!
Get ready for action, romance, science fiction and more coming to a theater near you in 2017. Here, we're giving you our annual quick guide to the films you need to know about over the next 12 months! We've got at least 84 for ya.
See you at the movies!
JANUARY: It's no home-sweet-home for Jennifer Jason Leigh and Bella Thorne in Amityville: The Awakening…Kate Beckinsale is back for Underworld: Blood Wars..Jamie Foxx is a cop trying to rescue his son from kidnappers in Sleepless..James McAvoy is scary as hell as a psychopath with multiple personalities in Split…XXX: Return of Xander Cage is the third film in the Vin Diesel action franchise…Owen Wilson and Ed Helms are brothers on a road trip looking for the dad they once believed was dead in Bastards…The Resident Evil series is set to end with Resident Evil: The Final Chapter.
FEBRUARY: Robert De Niro is an aging former king of comedy in The Comedian…Get ready for more kinky sex with Jamie Dornan and Dakota Johnson in Fifty Shades Darker…Keanu Reeves is back at in John Wick: Chapter 2…The Lego Batman Movie stars Will Arnett as the Caped Crusader and Michael Cera as Robin…Dan DeHaan is sent to bring home his boss from a mysterious clinic in A Cure for Wellness…Matt Damon is an ancient warrior fighting beasts attacking the Great Wall of China in The Great Wall…A United Kingdom is the true story of Prince Seretse Khama of Botswana marrying a white woman from London in the 1940s…Andrew Garfield plays a man paralyzed by polio with The Crown's Claire Foy as his wife in Breathe…In the horror flick Get Out, Daniel Kaluuya realizes his girlfriend's parents are not what they appear to be…Logan is Hugh Jackman's final turn as Wolverine.
MARCH: T2: Trainspotting is a sequel to the 1996 cult film Trainspotting…Anna Kendrick is seated at a table of misfits at her friend's wedding in Table 19…Woody Harrelson reunites with his estranged wife (Laura Dern) and finds out he has a teenage daughter in Wilson…King Kong is back for Kong: Skull Island starring Tom Hiddleston and Brie Larson…Emma Watson and Dan Stevens star in the live-action adaptation of Beauty and the Beast…Charlie Hunnam is King Arthur: Legend of the Sword…Power Rangers jump from television to the big screen…Scarlett Johansson stars in Ghost in the Shell based on the Japanese manga of the same name…The Zookeepers Wife is the true story of a Warsaw zookeeper and his wife (Jessica Chastain) who helped saved the lives of hundreds of Jews during the Holocaust.
APRIL: Smurfs: The Lost Village stars Demi Lovato and Joe Manganiello, among others…Julia Roberts stars as the mom of a boy (Jacob Tremblay) born with facial differences…Chris Evans is a single man raising his mathematical genius niece in Gifted…Charlize Theron joins the Fast and the Furious franchise in Fast 8…Katherine Heigl is an unstable woman who threatens of the life of her ex-husband's new wife in Unforgettable…Emma Watson and Tom Hanks star in The Circle, a tech thriller based on Dave Eggers' best-seller of the same name…John Krasinski narrates the story of three endangered animal families in Born in China…Charlie Hunnam stars as Col. Percival Fawcett, a British explorer who went missing in the 1920s in the Amazon in The Lost City of Z.
MAY: Chris Pratt, Zoe Saldana and Bradley Cooper are back for Guardians of the Galaxy Vol. 2…Sam Claflin falls for his cousin (Rachel Weisz) while potting a revenge against her after believing she murdered his guardian in the period piece My Cousin Rachel…Amy Schumer is Goldie Hawn's daughter in the action comedy Snatched…Alien: Covenant is the sequel to 2012's Prometheus and the third film in the Alien franchise… Dwayne Johnson and Zac Efron slip into red swim trunks for Baywatch…Jake Gyllenhaal, Ryan Reynolds and Rebecca Ferguson are part of a space station crew who discover proof of extra-terrestrial life on Mars…Johnny Depp sets sail again in Pirates of the Caribbean: Dead Men Tell No Tales.
JUNE: Kevin Hart stars in the animated Captain Underpants, an adaptation of the children's book series…Gal Gadot is Wonder Woman…The Mummy reboot stars Tom Cruise, Russell Crowe and Sofia Boutella…Naomi Watts is the mother of a boy genius (Jacob Tremblay) in The Book of Henry…Cars 3 speeds into theaters with Owen Wilson, Larry the Cable Guy and Bonnie Hunt…An injured Union soldier (Colin Farrell) charms his way through a Confederate girls boarding school in Sofia Coppola's remake of The Beguiled…Scarlett Johansson are Kate McKinnon are just two of the funny ladies who star in Rock That Body about a male stripper who dies during an out-of-control bachelorette party…Mark Wahlberg is back for Transformers: The Last Knight…Despicable Me 3 is the third installment of the animated Despicable franchise…Amy Poehler and Will Farrell start an illegal casino in their basement to pay for their daughter's college tuition in The House.
JULY: Tom Holland is your new web-slinger in Spider-Man: Homecoming…Patrick Schwarzenegger makes his big movie debut in Midnight Sun…More monkey business ensues in War for the Planet of the Apes…Tom Hardy and Cillian Murphy star in the WWII epic Dunkirk about the mission to save Allied troops from Dunkirk, France…Queen Latifah, Jada Pinkett Smith and Regina Hall take a road tip to the Essence Festival in New Orleans…Dane DeHaan and Cara Delevingne are out of this world in Luc Besson's Valerian and the City of a Thousand Planets…Based on the Stephen King book series, The Dark Tower stars Idris Elba and Matthew McConaughey.
AUGUST: The Emoji Movie is an animated flick about—you guessed it—an emoji…Ansel Elgort is a getaway driver who gets in trouble when a bank robbery goes wrong…CHiPs is a comedy adaptation of the 1970s television series of the same name…Charlize Theron is a spy looking for Cold War operatives just before the fall of the Berlin Wall in the action thriller The Coldest City.
SEPTEMBER: Granite Mountain stars Miles Teller, Taylor Kitsch and Jennifer Connelly in the true story about the Yarnell Hill Fire in Prescott, Arizona that killed 19 people…Ninjas, samurais and sensei fight dragons in The Lego Ninjago Movie…Judi Dench stars as Queen Victoria in Victoria and Abdul about the monarch's unlikely friendship with a young Indian clerk…In American Made, Tom Cruise stars as a real-life drug smuggler who became an informant for the CIA in the 1980s…There's nothing funny about the clown in It.
OCTOBER: Ryan Gosling stars in Blade Runner 2049…Channing Tatum joins Taron Egerton and Colin Firth for the spy comedy Kingsman: The Golden Circle…My Little Pony: The Movie is based on the colorful toys of the same name…Jason is back for more Friday the 13th…Insidious Chapter 4 is the fourth installment of the hit horror franchise.
NOVEMBER: Chris Hemsworth flexes his muscles once again in Thor: Ragnarok…Jennifer Lawrence reunites with her Hunger Games director Francis Lawrence for the spy thriller Red Sparrow with Joel Edgerton…Your favorite British bear is back in Paddington 2…Batman, Superman, Wonder Woman and more join forces in Justice League…Coco is a Disney and Pixar flick inspired by the Mexican holiday Día de Los Muertos…Director Kenneth Branagh adapts Agatha Christie's Murder on the Orient Express…Within days of becoming British prime minister, Winston Churchill (Gary Oldman) faces off against Adolf Hitler in The Darkest Hour.
DECEMBER: Daisy Ridley, John Boyega and the late Carrie Fisher are back for Star Wars: Episode VIII…The Jumanji remake stars Dwayne Johnson, Kevin Hart and Nick Jonas…Anna Kendrick shows off her vocal chops again in Pitch Perfect 3…Matt Damon is a man who shrinks himself in search of a better life in Downsizing…Hugh Jackman, Michelle Williams and Zac Efron star in the musical bio-pic The Greatest Showman about circus legend P.T. Barnum.
Sumber: http://www.eonline.com
​​ BestSellerMagazine.com, sites News largest in the world. News artist, celebrity gossip, celebrity interviews, vent celebrities, photos of celebrities, celebrities.